DesignCap Presentation Maker is an online application that facilitates the creation of high-quality graphic designs without the need for advanced skills. It contains customizable features and includes lots of templates, stock images, and icons for your projects. You can save your designs to the cloud or to your device and share them on social media. And it has 7 different languages. In this article, I will show you what it can do.
Also Read: DesignEvo Logo Maker: How to Make a Logo Online
Get you presentation in three steps
Before creating your presentation, let's register an account. It's not a must. It's for accessing to more cloud features. You can register an account with your email or log in directly through your Facebook or Google account.
Thousands of templates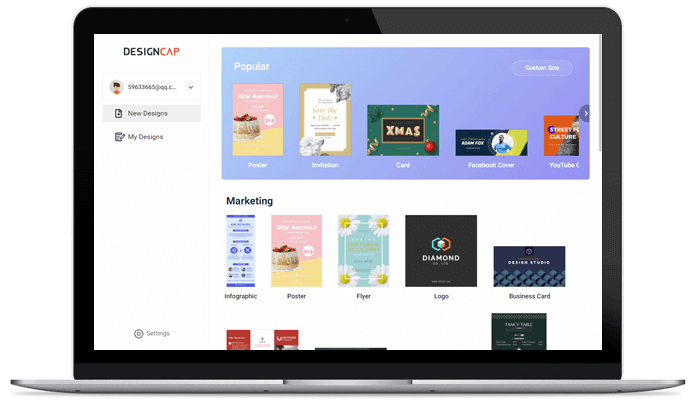 DesignCap provides lots of templates to facilitate your business or project. You can search and filter by category. It includes marketing and social media templates like posters, flyers, banners, business cards, menus, infographics, invitations, Facebook ads and covers, YouTube channel graphics, Instagram covers, Pinterest, Tumblr, Twitter, email headers, and more. The site offers more than a million of icons that you can edit. Find the presentation and pick a template to start your design. It allows you to start your design from a blank template as well.
Also Read: Newcomers To Choosing The Perfect Channel Manager For A Resort – Software Program
Make changes to the elements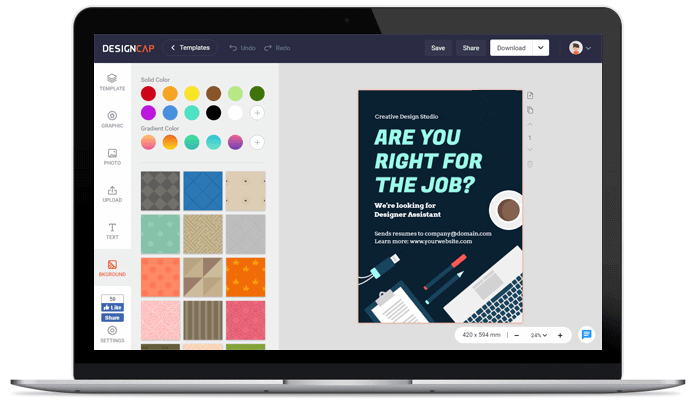 On the left are options to show templates, elements, photos, charts, uploads, text, modules, and background. Clicking an option, it will display the detailed options to the right of that list. The example above shows the backgrounds for the current project.
The project itself is placed inside the largest area with a board to create your project. To the right of the panel are buttons to add a page, copy a page, move up or down (depending on pages), and delete the page. Below the panel is the project size, zoom feature, and help button.
What I'd love to emphasize is its chart option. It has many chart styles including line, column, bar, pie, and area. Clicking one of them opens the graph editor where you can add data to an embedded spreadsheet. You can also import data from spreadsheet.
Download, print, and share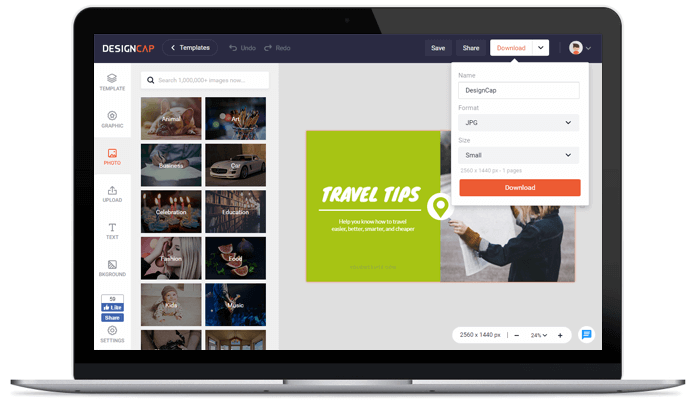 You can download your presentation as JPG, PNG and PPTX files. You can also present it to your audiences with many different cool effect in the app. Besides, in case you want to do some corrections, save it under your DesignCap account.   
Also Read: How to Fix QuickBooks Error 1625?
Final opinion
DesignCap is a free online graphic designer designed to allows people create  professional-looking presentation quickly and effortlessly, even for the newbie in design areas. With this easy to use app, you don't need to hire a  professional graphic designers and artists, you can make it yourself like a pro designer. 
Also Read: DID YOU KNOW THE IMPORTANCE OF BEEF CATTLE MANAGEMENT?